Thank You Lizzy you did it again.
---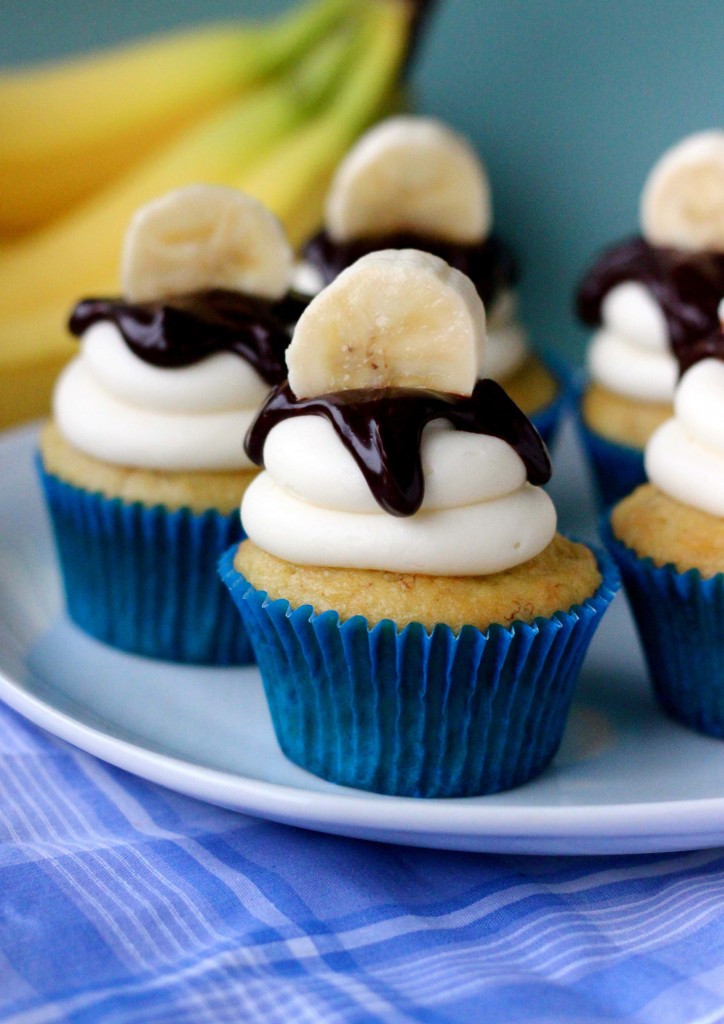 The Story:
One of my very first posts was this recipe for simple banana cupcakes. But I ended up taking in down a few months ago because the photos were just SO horrendous. But then I start getting nervous emails from people because they couldn't find the recipe anymore! So here is the recipe, but with photos to redeem myself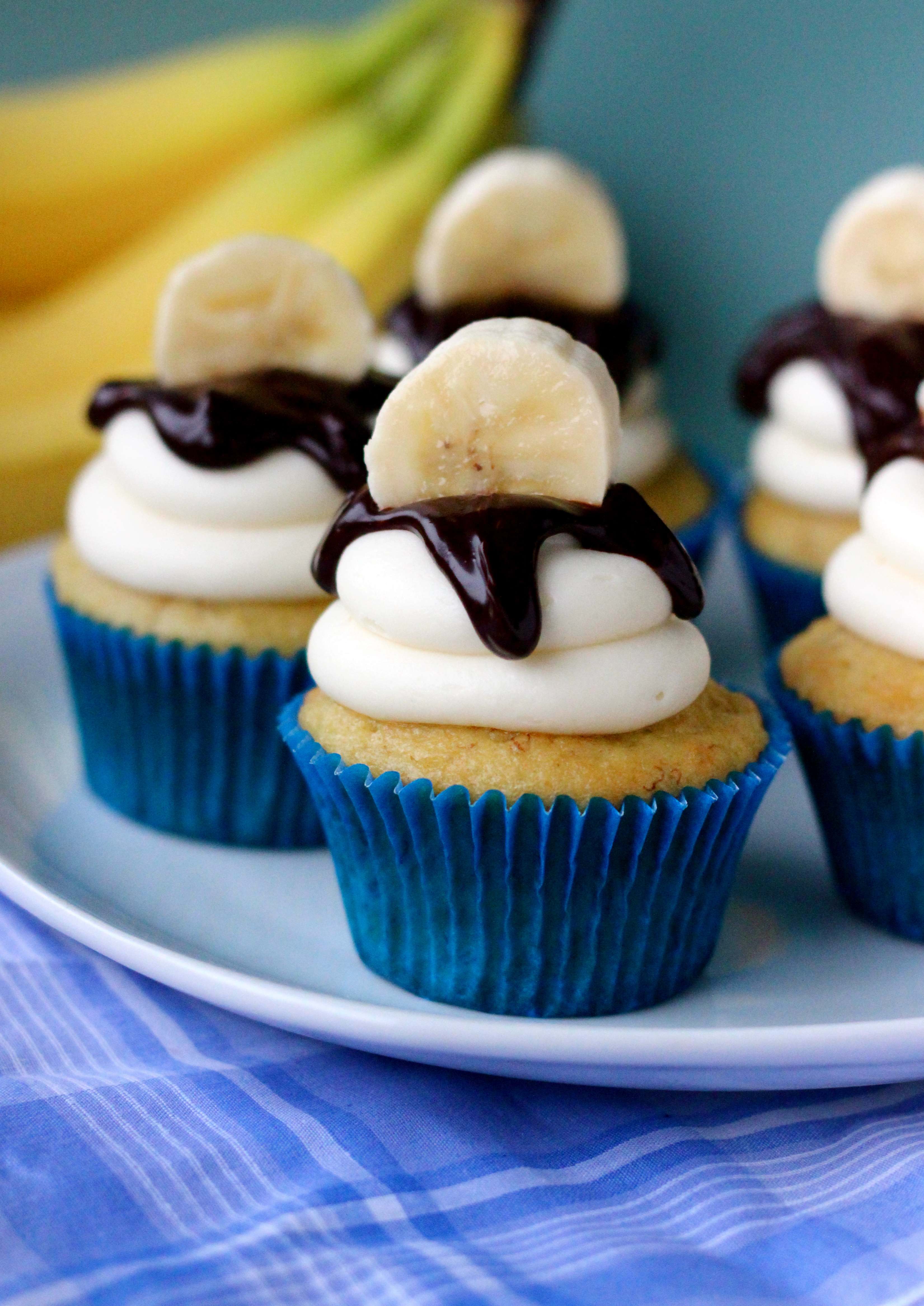 Ingredients
Banana Cake:
1 box Yellow Cake Mix
1/2 cup flour
3 ripe bananas, medium-small sized
1 teaspoon baking soda
1/2 teaspoon lemon juice
3 eggs
1/3 cup oil
3/4 cup buttermilk
3/4 cup sour cream
1 tablespoon vanilla extract
Cream Cheese Frosting:
1/2 cup butter, softened
8 oz cream cheese, softened
2 teaspoons vanilla extract
3-4 cups powdered sugar
Chocolate Ganache:
1/2 cup chocolate chips
1/2 cup heavy cream
1 1/2 tablespoons honey
Directions
1. Preheat oven to 350 degrees and line pans with cupcake liners.
2. In a small bowl, sift cake mix and flour together.
3. In another small bowl, finely mash bananas with baking soda and lemon juice.
4. In a large bowl, gently whisk eggs, oil, buttermilk, sour cream and vanilla extract.
5. Add mashed bananas to the wet ingredients and stir. Add cake mix/flour and stir again.
6. Fill liners 3/4 full and bake for 15-18 minutes or until an inserted knife comes out clean.
7. Frosting: Beat butter and cream cheese for 3 minutes. Add vanilla extract and slowly add powdered sugar until you reach your desired consistency. Add milk to thin out frosting if needed.
8. Ganache: Place chocolate chips in a heat proof bowl. Heat heavy cream on the stove top until bubbles form (not quite a boil). Pour over chocolate chips and whisk until smooth. Add honey and stir again. Let cool for 10 minutes.
9. Pipe buttercream onto cooled cupcakes and top with chocolate ganache and banana slices.
Copyright © YourCupofCake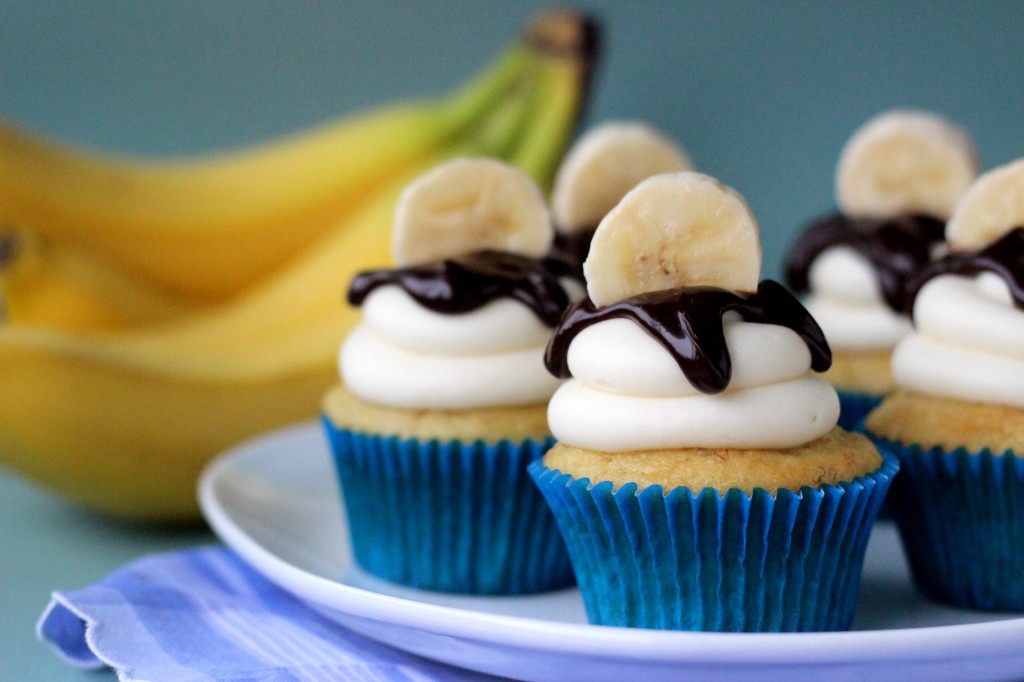 Use Chocolate Jimmies if you don't want to make ganache!
Thank you ladies for coming by and I sure hope you will enjoy this one.
I know my grandkids would love this one cause it has banana's in it and on it, So why not try these and see if your family will like these.
I hope you will try these and let me know what you think by leaving a comment or hitting the like button.
Thanks for coming by..
Sincerely
Donna Scrapp'n Nana