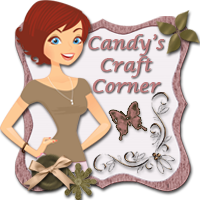 She is having this special when she reach 400 members why don't you come and see if you can win some of this also. Here is here address.
http://candyscraftcorner.blogspot.com/2012/02/400-follower-giveaway.html
400 Follower Giveaway!!
Hey everyone! Hope you are all having a fantastic day!
I can't believe I am almost at 400 followers! That is so amazing! So to celebrate I am having a giveaway! Woop! Woop!
I want to thank each and every one of you who stop by my blog to visit and leave such lovely comments for me.
I love each and every one!
It's so nice to see that others enjoy my cards as much as I enjoy making them.
So to thank my followers I am giving away.....
All these yummy goodies!!
6 Stamp sets. Bag of Buttons. Stack of Digi images to color. 2- 8x8 Scrap kits/pads.
All you have to do is:
1. Be a follower of my Blog (leave a comment on this post saying so) 1 entry
2. Put my candy is your sidebar linking back to my blog(leave a comment on this post saying so) 1 entry
3. Create a post on your blog sharing my giveaway, linking back to my blog (leave a comment on this post saying so) 1 entry
4. Share on your Facebook page (leave a link to your share and a comment here saying so) 1 entry
Make sure you leave me your email address so I can contact you if you win!
Also if you win and you have created a post on your blog about my giveaway you will receive an extra surprise candy!
Good luck everyone!
Sorry but this candy is open to Canada & US residents only! Shipping is crazy!!
I will let this candy run for 4 weeks! Draw will be on Mar 19!
If I reach 400 followers before Mar 19 I will add another stamp set to the giveaway for every 5 followers over 400! So get out there and spread the word!
Thanks for stopping by today.
Take Care and Keep Creating,